OptiWize Collagen +Plus Human
320 Capsules
60 Day Happiness Guarantee
Regular price

Sale price

$55.00
*These 10 natural ingredients work synergistically to optimize joint health, soft and connective tissue structures
*Our blend promotes joint health and comfort, helps support cartilage and joint flexibility, encourages overall health, and helps increase joint mobility
Benefits

REPAIRS:
Formulated to create a patch structure in the cartilage where connective tissue is lost accelerating the healing of tendons, ligaments, and bones.
RESTORES:
Joint space is regained and joint strength is repaired. Assists in remodeling of connective tissue and bone.
PROTECTS:
Lubricates joints by increasing healthy synovial fluid, improving shock absorption and assists in bone density.
Recommended For

*Supports Joint Health
*Promotes Mobility and Flexibility
*Supports Healthy Cartilage
*Reduces Joint Stiffness
*Supports Healthy Inflammation Response
*Improves Joint Stability
*Accelerates Recovery
*Soft and Connective Tissue Support
*Replenishes Collagen
*Hair, Skin and Nails
*Supports Healthy Weight
*Boosts Muscle Tone and Definition
Ingredients

Ingredients:
Glucosamine Sulfate
Vitamin C (Ascorbic Acid)
Omega3
MethylSylfonilMethane (MSM)
Chondroitin Sulfate
Magnesium
Hydrolyzed Collagen Type II
Hyaluronic Acid
Gamma Oryzanol
Green Lipped Mussel
"Zero Fillers, All Natural"
How To Use

Serving size: 4-6
Once daily for maintenance dose
Twice daily to *support; injuries, rehab or advanced arthritis

Once Daily (weight 100-200lbs):
4 Capsules - 2200mg
Once Daily (weight 200-300lbs):
6 Capsules - 3300mg

Twice Daily (weight 100-200lbs):
4 Capsules - 4400mg
Twice Daily (weight 200-300lbs):
6 Capsules - 6600mg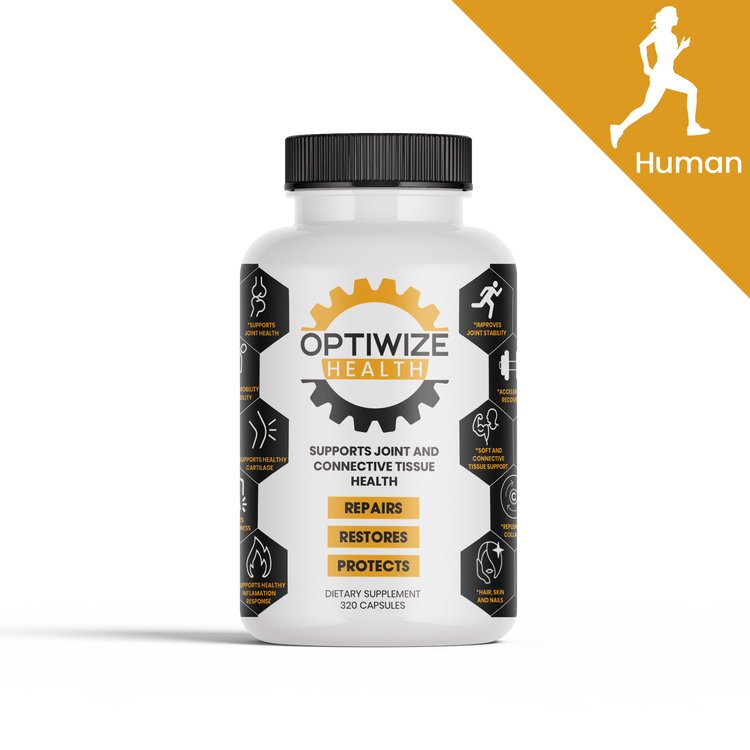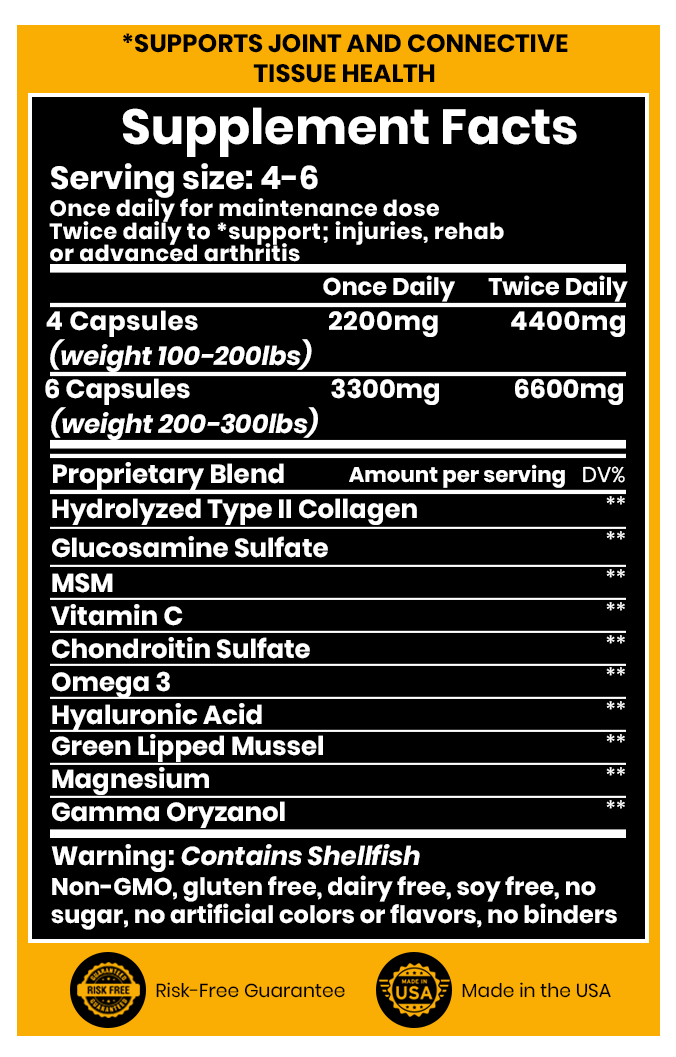 "Zero Fillers, All Natural"
Product Details
Recommended For

*Supports Joints Health
*Promotes Mobility and Flexibility
*Supports Health Cartilage
*Reduces Joint Stiffness
*Supports Healthy Inflamation Response
*Improves Joint Stability
*Accelerates Recovery
*Soft and Connective Tissue Support
*Replenishes Collagen
*Hair, Skin and Nails
Ingredients

Glucosamine Sulfate
Vitamin C (Ascorbic Acid)
Omega3
MethylSylfonilMethane (MSM)
Chondroitin Sulfate
Magnesium
Hydrolyzed Collagen Type II
Hyaluronic Acid
Gamma Oryzanol
Green Lipped Mussel
"Zero Fillers, All Natural"
How To Use

Serving size: 4-6
Once daily for maintenance dose
Twice daily to *support; injuries, rehab or advanced arthritis

Once Daily (weight 100-200lbs):
4 Capsules - 2200mg
Once Daily (weight 200-300lbs):
6 Capsules - 3300mg

Twice Daily (weight 100-200lbs):
4 Capsules - 4400mg
Twice Daily (weight 200-300lbs):
6 Capsules - 6600mg